"Student Of The Year" and "Wake Up, Sid!" were two of my favourite Bollywood films growing up. Both stories mirrored the evolution and struggles of an average desi child growing up in a quintessential desi household. The transition from dumb school/college going children to just about functioning adults was something all South Asian kids could relate to. Alia Bhatt and Ranbir Kapoor played their spoiled brat characters to near perfection in the two films, with minor slips expected from any newcomer in the industry.
This was 10 and 13 years ago respectively, and both actors have come a long way since. We've witnessed their acting evolution with bigger roles, saw them fall in love and get married to each other, and now, they've unveiled South Asia's first mythical universe in their upcoming film, "Brahmastra Part One: Shiva."
With Marvel and DC dominating the world's stage with their superhero universes, it's hard for our minds to not gravitate to Spider-man's antics or Guardians defending the galaxy. This was further cemented with the release of "Ms. Marvel" as Hollywood's first South Asian superhero. It becomes easy for audiences to question how "Brahmastra" differs from its western counterparts in such a competitive market.
"You know, Avatar is a word taken from our language and culture,"
Ranbir explains as I nod, thinking of the Sanskrit word "avtaar." Clad in black and red respectively, he and Alia were all smiles on a particularly hot London afternoon over Zoom.
"Hollywood didn't have Avatar on its own – the inspiration was taken from us. America didn't have Superman comics before we had a flying Hanuman in our culture. We've had stories for centuries, so who knows – maybe the west took inspiration from us," he laughs. "Yes, we are waking up to the fact that there is an appetite for such narratives. We witnessed that with the release of 'Baahubali,' and we're also experiencing it with excitement for 'Brahmastra.' I really hope that Hollywood takes notice…maybe there will be a collaboration with an Indian multiverse and an American multiverse. The world seems to be getting closer and closer each day so anything is possible."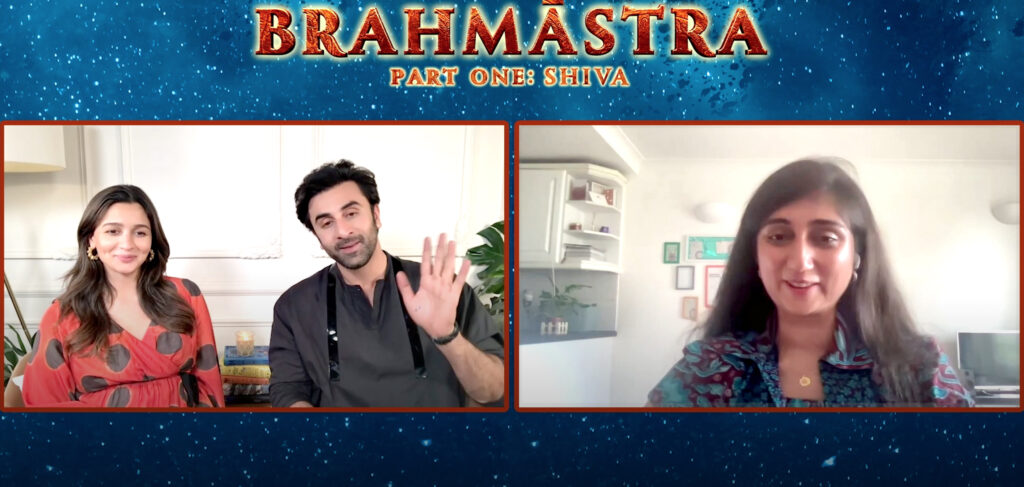 Speaking of Hollywood, Alia has already had a taste of the world's biggest film industry working on Tom Harper's to-be-released "Heart of Stone" alongside Gal Gadot and Jamie Dornan. Over the years, her choice of roles has become more and more selective, as evidenced by Badru in "Darlings" and Gangubai in "Gangubai Kathiawadi." We're sure fans often wonder what she looks for in her characters in a new script.
"I definitely look at the overall film as the first step," she shares animatedly, "then, I look at how the character I'm playing is affecting the overall storyline. It doesn't matter if the role is big or small, the storyline needs to have depth and meaning. That's important to me. With 'Brahmastra,' I was just so excited when it came to me! I said to Ayan Mukerji (director of the film), let's just start filming right away. I've always been such a fan of Ayan's work and the person that he is. His vision is so clear and passionate – it rubs off on everyone. He's hardworking beyond anyone's wildest imagination, and I've discovered that firsthand through 'Brahmastra.'"
We've keenly observed Ayan's work in many of Ranbir's films. Whether it's through the bratty Siddharth in "Wake Up, Sid," or everyone's favourite shadi song "Dilli Waali Girlfriend" from "Yeh Jawani Hai Deewani." There must be an element setting Mukerji apart from other directors, prompting Ranbir towards his projects.
"I think Ayan has truly mastered what it means to make a film for his audience, and not for himself. Also, he's probably the hardest working individual that I've come across in my life. Brahmastra was announced eight years ago, and it took us a long time to get where we are but he just never gave up. He's also my bro," he shares, making us laugh, "his entire existence has been the creation of 'Brahmastra' for quite a while, and he's given it his 100%. I think when a human being risks that much for a film, that level of dedication earns him/her a lot of well-deserved respect."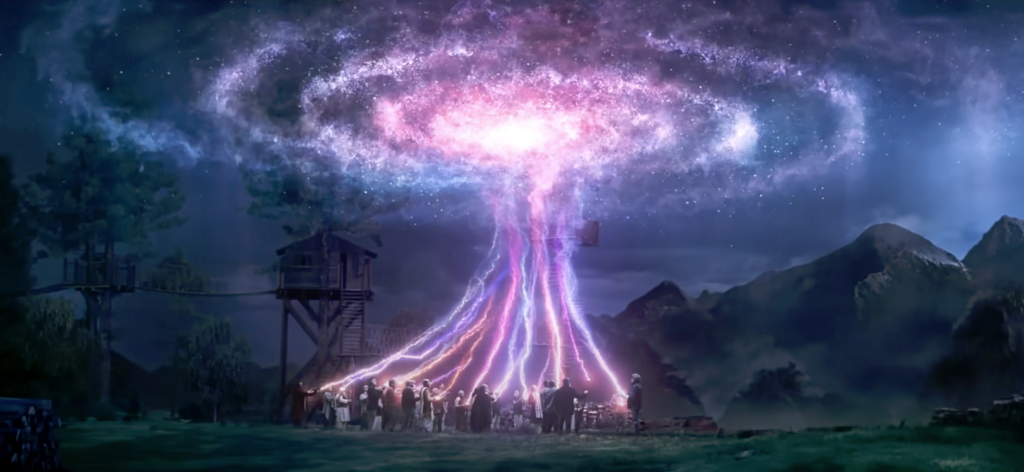 There's an intense use of visual effects, CGI and graphics. The shooting spell has spanned over eight years – a time period where media, storytelling, and technology have significantly evolved. Surely, that must mirror the process of narrating a tale that's so deeply rooted in Indian culture, but is set in the country's modern day landscape.
"I think that was one of the most exciting parts," Alia begins, "It's a story for every generation. For all three – young, old and the in-between – there's something to love and enjoy. It's a beautiful mix with a lot of newness. There are many elements which spread one key message: go forward, fly high, but don't forget your roots. I really enjoyed that representation of the film, and that's also what audiences are responding to when they see the trailer and its songs. That, 'oh, the music is very 2022, the effects are very contemporary, but the story is centuries old.' It was a lot of fun bridging the gap between the two.'"

"I also want to add that this will encourage more filmmakers to tell stories originating from our culture," Ranbir continues, "Indian mythology is full of tales and folklore waiting to be discovered. We don't necessarily have to set them in the prehistoric era; they can be told in modern day India. Cinema is getting so much worldwide exposure – it's because directors know what the 21st century audience wants to watch. They want traditional narratives set in modern day societies. It makes the film-watching experience more relatable and fun. 'Brahmastra' can really be a gamechanger for South Asia. Our characters are written and depicted with so much care and passion – two millennials who are part of a story that can date back to centuries."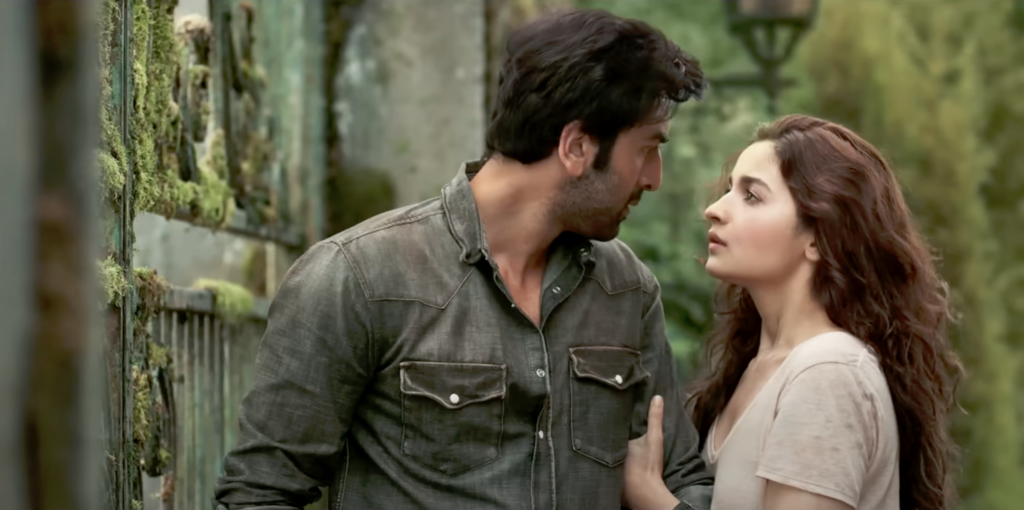 Speaking of their respective roles, is there a way for the onscreen and real-life couple to describe their characters in just one spoiler-free sentence?
"Isha is innocent," Alia starts with a smile, "she's full of wonder and adventure. Most importantly, she's strong and loyal. She's aware of her emotional strength, and that's one of the first things that drew me to her character."

"For me, Shiva is a young ordinary man born with extraordinary powers," Ranbir muses thoughtfully, "he's born with the power of fire, which he doesn't completely understand. He is also related to the Brahmastra…which I can't reveal more about but we will find out in due course!"
While we understand much can't be said in anticipation of the film, there must be a key takeaway message for audiences which can be shared.
"Right now, the key takeaway would be for audiences to take themselves to the cinema and enjoy the magical experience on the big screen!" Alia concludes with Ranbir nodding in agreement. "We just hope it brings them the same level of joy that it brought us while filming."
"Brahmastra Part One: Shiva" is now playing over 8000 screens worldwide in standard formats, as well as 3D, IMAX 3D, and 4DX 3D for a fully immersive experience.