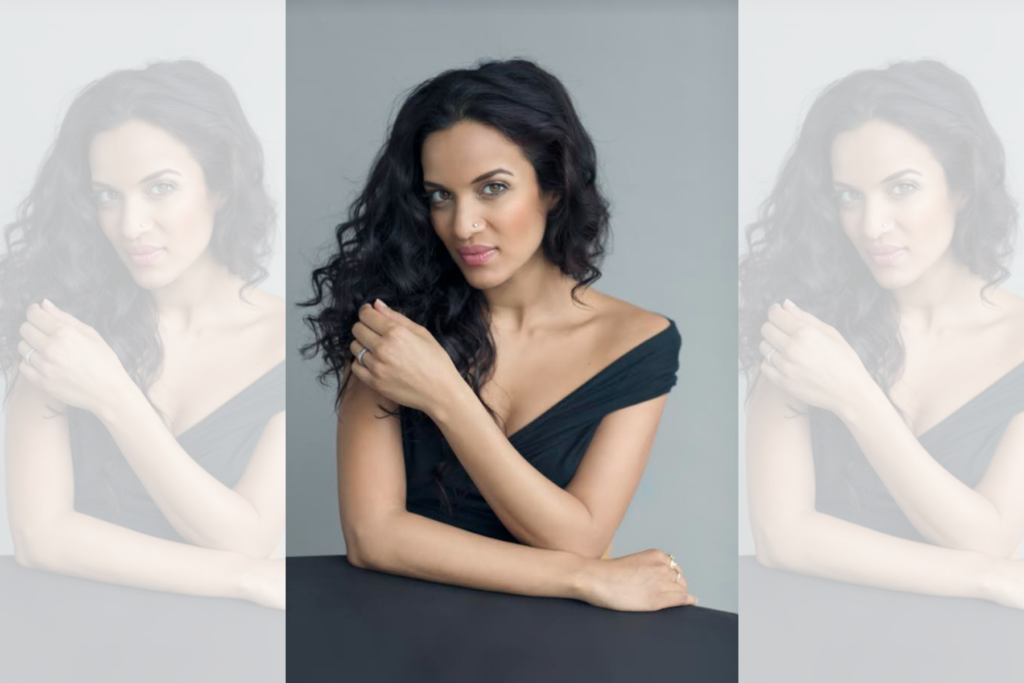 There is no denying that Anoushka Shankar is an iconic sitar virtuoso in her own right. While she began training with her father, the legendary Ravi Shankar, at the early age of 7, she eventually focused her energy on building a successful career as a solo artist. She has worked with notable music artists including The Beatles, jazz icon Herbie Hancock, tabla master Zakir Hussain, and many more. Though originally from London, Shankar went to high school in Southern California where she graduated with honors. Fun fact: she also won homecoming queen in high school. She has released 12 albums and many features, spread across multiple genres. Shankar is known for being the first Indian artist to present and perform at the Grammys. She has recently been nominated for the category of Best Global Music Performance for the track "Udhero Na" with Arooj Aftab and the category of Best Global Music Album for her album "Between Us …" for the 65th Annual Grammy Awards. Additionally, Shankar will be releasing the track entitled "IN HER NAME" with Nikita Gill on December 16th, 2022. Over the years, Shankar has performed at many benefit concerts such as the Concert for George (George Harrison), Rock for the Rainforest, Tibetan Peace Garden Benefit, and more. She also actively advocates for women's rights, refugees, and animal rights. Continue reading to learn more about Shankar's journey!
While listening to the album 'Between Us…' a track that stood out to me was "Voice of the Moon." The first note made me feel nostalgic about my middle school orchestral experience of being part of a full orchestra. What was it like working with the conductor Jules Buckley, the composer and Hang player Manu Delago, and Metropole Orkest Strings?
When I was asked to adapt my music for orchestra, I knew I wanted to work with Jules Buckley. He has worked with a dizzying array of artists, bringing new life to their work with orchestrations that are beautiful and modern. I felt I could trust him with the complexities of the Indian aspects of my music. Also, he's a unique conductor that can really groove across multiple genres. It was wonderful finally being on stage together with the orchestrations we had worked on for over a year prior. With Manu Delago, it's a completely different experience because he's been one of my key collaborators over the last decade. We have a deep trust and knowledge of each other onstage and it's been beautiful translating our 'band' relationship into an orchestral context. Finally, Metropole Orkest are really incredible. You can hear their power and precision on the record. It was infectious playing with them.
"Jannah" was another track that reminded me of my middle school orchestral experience as my teachers played a pivotal role in exposing me to cross-cultural collaborations. What were your thoughts, feelings, and emotions while creating this previously unreleased track?
"Jannah" has been my baby without a home for easily the last 15 years! Although it's always translated well into any band formation I've toured with, and people have loved it live, I never found the right home for it on an album. How apt that it found its natural home on a live album? "Jannah" is Arabic for "Garden of Paradise," and I chose the song years ago when realizing that the joy of the song made me think of a garden full of butterflies dancing in the sunlight.
Speaking of cross-cultural collaborations, you played the role of conductor and assistant on one of the biggest cross-cultural albums, 'Chants of India,' with your father Ravi Shankar and George Harrison from The Beatles. What advice did you receive from them in the early years and how has it impacted you in the way you go about making music today?
It was hugely formative getting to work with musical giants like that on a big recording when I was 14 to 15 years old. Although I obviously had close relationships with them, it was different getting to watch them work in studio and assist up close. One of my biggest lessons was during a challenge. We couldn't get the rhythm and metre to work on one song. I kept saying we should give up and was frustrated, in a teenaged way, about not being listened to and about them "wasting time!" Eventually, they both came up with a beautiful solution and the music sounded incredible. Uncle George then told me a little story about an optimist frog and a pessimist frog who fell into a bowl of milk. The pessimist gave up and drowned, whilst the optimist kept trying to swim out for so long it eventually churned the milk into butter and was able to jump out. I never forgot that lesson.
The track "Land of Gold" is a very special track as it feels like a journey that your listeners get to experience together. How does it feel to have impacted and influenced so many individuals around the world by exposing them not only to South Asian sounds but also pushing South Asian culture into the mainstream?
Thank you so much! I'm deeply fond of that song. It was written as part of an overall album; made in response to the ongoing refugee crisis and the inhumanity with which people in need are treated. It has a really strong emotional core and I'm pleased that I was able to translate it into the instrumental, orchestral version.
As you are about to embark on your India tour this December, after two years, what are you looking forward to the most?
In a really straightforward way, I'm simply looking forward to returning to India. I'm looking forward to reconnecting with family and friends, but also with my listeners there at the shows. I'm looking forward to taking my children back after several years. All of it!
What did it feel like to be a part of the Dalai Lama's album 'Inner World' and how were you approached on the subject?
Unsurprisingly, it was a true honor being asked to take part in his first and only album of meditations. I just tried to play music from an open heart.
Indian classical music and American jazz meld beautifully together as we've seen with your collaboration with Herbie Hancock. What similarities do you see between them which make them fuse together seamlessly?
There are as many similarities as there are differences, to be honest. With any cross-genre work, it's about finding and expanding upon those similarities, but also about consciously digging into and exploring the differences — making active choices about who's traveling across the bridge to whose musical 'home' or whether the meeting is taking place on the bridge between musical homes! With Indian classical music and bass, one striking similarity that people catch onto quickly is the essential improvisatory element, which make both feel so exciting and infectious in the right hands. However, the style of improvisation is very different in jazz springs from harmony and counterpoint whereas Indian classical musicians improvise upon the raga (melody form) and tala (rhythmic cycle). So, even though that freedom is common to both, in order to play together it still involves trying to find a common language.
Lastly, what do you hope individuals take away from this interview with Brown Girl Magazine?
A sense of how awesome I am?! Kidding. Half-kidding. I mean, hello whoever is reading! If anything, I hope you feel curious to listen to my music and I hope it moves you, or I hope you feel curious about some kind of music – even if it isn't mine — but that's outside of what you perhaps usually listen to, maybe from a different culture, and give it a try.
Photo Courtesy of Laura Lewis/PR