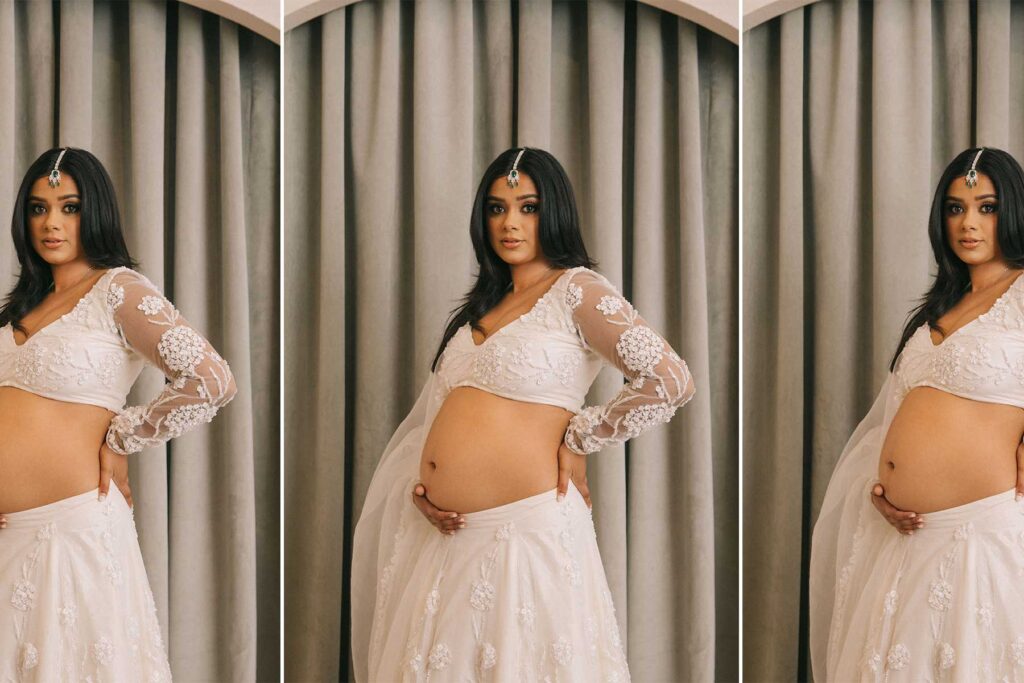 On the heels of delivering her first baby, Canadian fashion designer Mani Jassal is gearing up for motherhood while being the girl boss, and businesswoman that she already is. From curating author Rupi Kaur's world tour collection to featuring her unique pieces at Holt Renfrew this past Diwali, there's no stopping Jassal on this path to more success!
Jassal spoke to Brown Girl Magazine about her pregnancy, her impending journey of motherhood, and how it's all things bigger and better for her label in the new year. Here's what she had to say:
Talk to me about your pregnancy journey.
The first trimester was the most challenging because I found myself feeling constantly exhausted, and I hadn't told my team yet that I was pregnant, so I felt guilty that I wasn't doing enough at work with them. In the second trimester, my energy levels started coming back and I was able to accomplish a little bit more, and be a little more hands-on with orders and Rupi [Kaur's] collection. The third trimester has just been exhausting. Again, I find myself now not being as active at work and having to take multiple days off in a row just because of the back pain and all of the fun stuff that comes with pregnancy. I am 'officially unofficially' on maternity leave, but I find myself feeling bored at home and just wanting to be at work and doing something else.

What stands out to you throughout the last eight to nine months of your pregnancy?
I think throughout all of the pregnancy symptoms I am still surprised that I am able to run this business. I have an amazing team that has been incredibly helpful in making this journey so much easier. I know that I, and my clients, are in good hands when I take off for a bit during 'my maternity leave.'

I think the coolest thing is that I've been able to accomplish so many important career milestones while pregnant. For example, I walked in a fashion show at the Fairmont, I had a pop-up at Holt Renfrew, I spoke on a panel where I faced my fear of public speaking, and I designed an entire world tour collection for Rupi Kaur.

I basically just proved myself wrong. I did not have to pause my career while achieving my personal family goals. You can have it all. I am so excited to have shared these moments with my son while he was inside my tummy.
Congratulations on all of those milestones! How did you strike a balance between prepping to be a mom and running a full-time business and achieving these goals?
Again, I found myself feeling really guilty for not being able to do as much at work as I would normally have. However, throughout the pregnancy journey, I learned to be kinder to myself and listen to my body, because I am literally growing a human inside of me. Again, I have an amazing team that is able to look after the business while I am away resting. There are a lot of things that I'm able to do from home so I don't necessarily need to be at work physically all the time.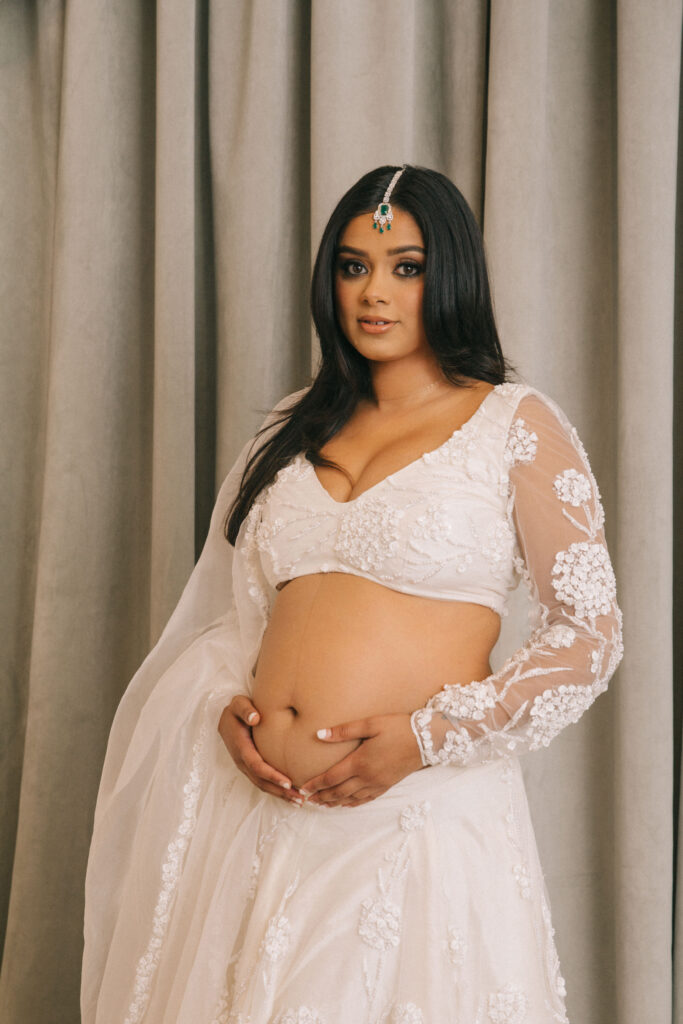 Has your pregnancy journey inspired you creatively at all? Is it reflected in any of your pieces, or will you draw to your pregnancy for inspiration in your future collections?
I actually found it extremely difficult to be creative while I was pregnant. I had to design completely new looks for Rupi [Kaur's] world tour and I found it much more difficult than when I wasn't pregnant. The thing with designing and creativity is that it cannot be scheduled and it's harder to do when you're just feeling exhausted and just not yourself. Somehow I did it anyways but I don't even understand how I did it! I don't think I will be drawing on my pregnancy for inspiration and future collections.
And Kaur's world tour collection was phenomenal! You nailed each piece, so kudos to you! Now, let's talk about a popular word that always comes up when businesswomen become mothers — 'mompreneur'.
I am personally not a fan of the word 'mompreneur.' When you see a man/dad with a business, he's simply a businessman or a business person. However, when it comes to women they are always subjected to their relationships with others — like being a mom. Can we just normalize women being entrepreneurs and celebrate their success instead of downplaying it? We don't use the term 'dadpreneur' so I think it's long overdue that we stop using 'mompreneur.' To me, it has the same ring as 'girl boss.'
Well said! I want to go back to the moment you found out you were pregnant. What was the first thought that crossed your mind?
The pregnancy caught both my husband and me by surprise. I think I immediately went into panic mode when I first found out because I was like holy sh*t! What is my life going to be like now?! I automatically started thinking about work and my company and just how we're building a house, and building the store. I was feeling really overwhelmed when I first found out because I was just trying to plan out how I would balance everything. And because I'm such a planner, I didn't want everything to happen at once. But obviously, life doesn't work that way and catches you when you least expect it to. After soaking it all [in], I was so excited to have a baby and things just started falling into place, and I knew that we were going to be OK.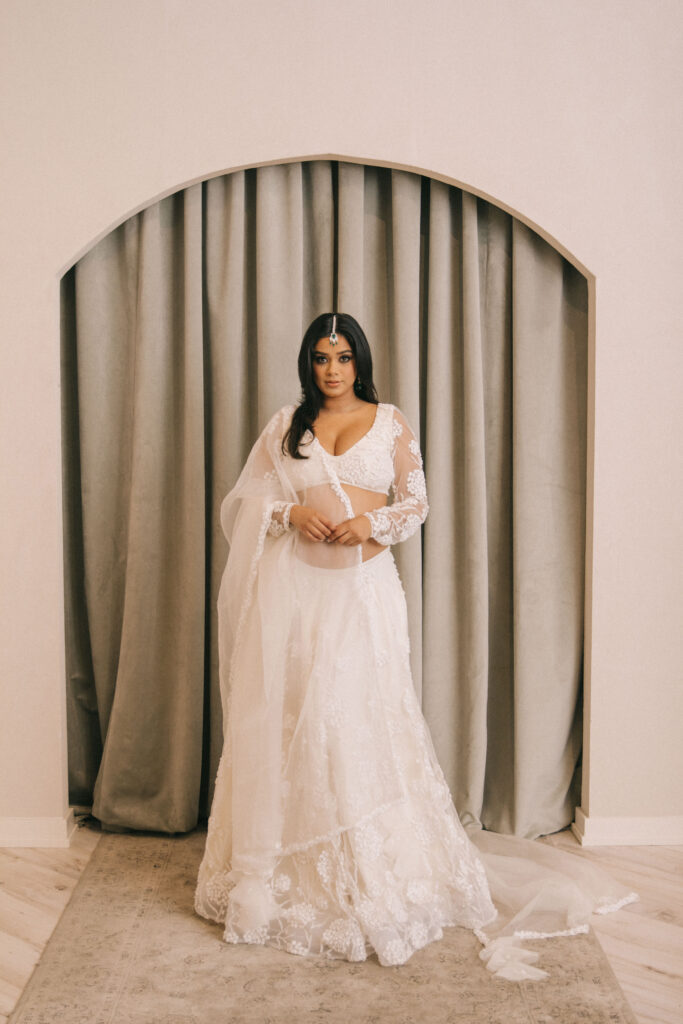 How, if in any way, will you leverage motherhood to further enhance your label?
I am already doing this with my label, but I would like to be even more intentional with the messaging of my brand to empower people to be their best and authentic selves and to be confident in themselves.
What advice do you have for other businesswomen starting a family?
I think I'm still learning since I'm still in the pregnancy part of the journey. I will have more to share about being an entrepreneur and a mother at the same time when I cross that path after delivery.
One pregnancy tip/hack you swear by?
Listen to your body and rest as much as you can while you can. Do NOT feel guilty!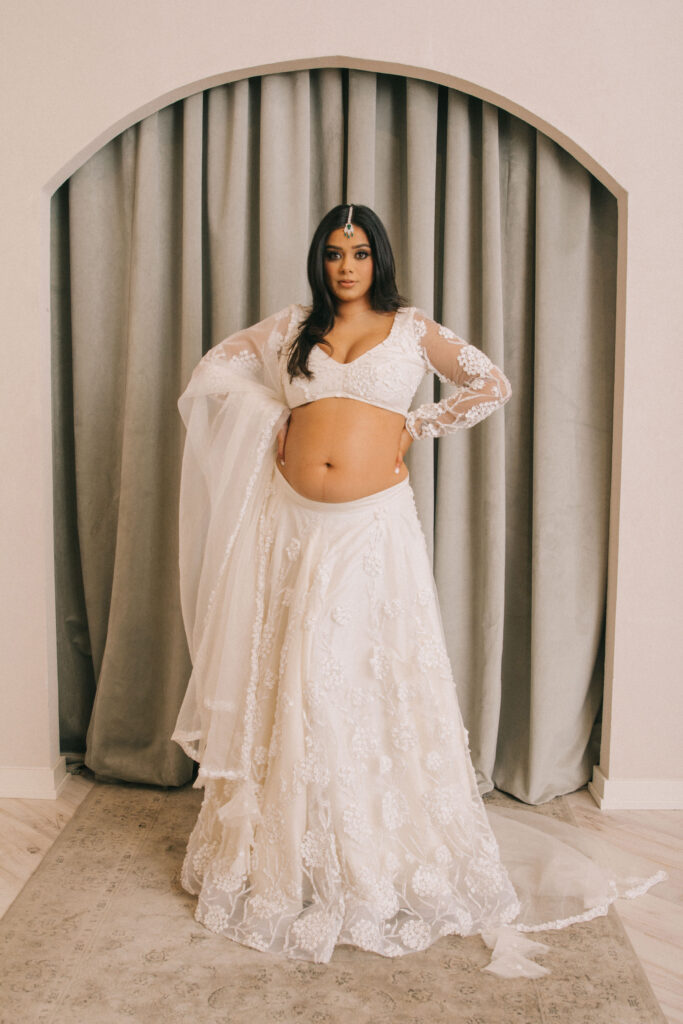 What are you looking forward to the most once the baby arrives?
I am so excited to hold him and hug him and give him all the love in the world. I am also so excited to see how Hark is as a father because I know he's going to be amazing.
What's next for Mani Jassal, the label?
I'm going to be taking the month of December, January, and February off to be with the baby. Who knows, while I'm at home I may get bored and design a couple of collections. Haha! I do have something exciting planned for next year!
We can't wait to see what's to come for Mani Jassal, the label, and the girl boss who's behind the magic — Jassal herself. Here's wishing Jassal loads of luck and love for her baby boy and all that's to come as she embraces motherhood.
Photos Source: Baljit Singh