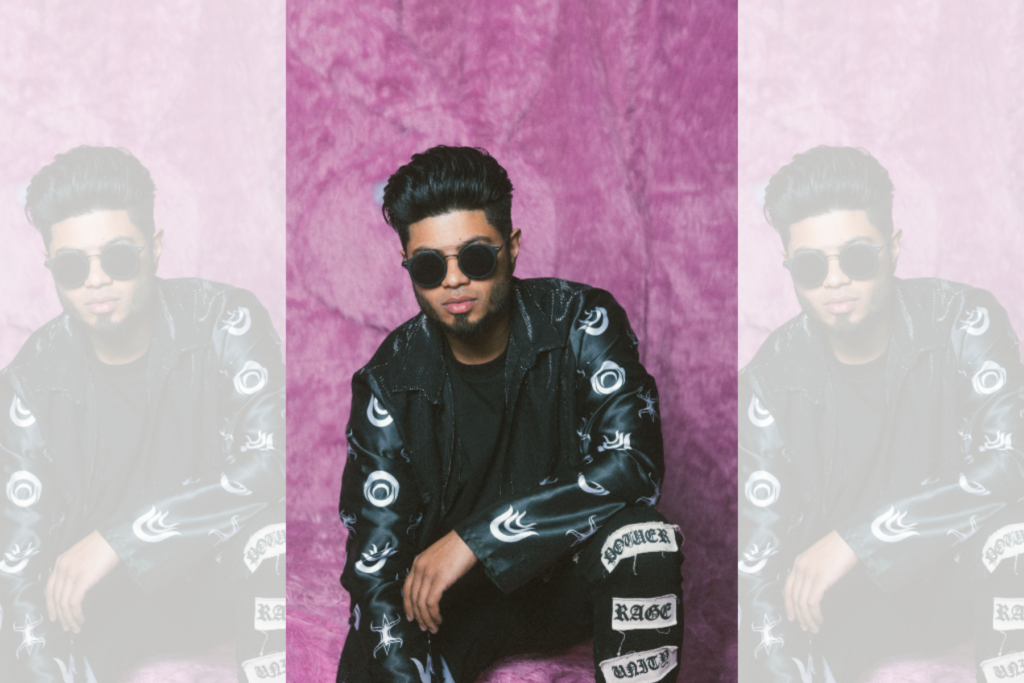 From making mashups and remixes to collaborating with musicians around the world, Sanjoy pushes the limits of what is possible. Sanjoy is a Bangladeshi American producer and DJ based in Los Angeles, California. He has worked with artists from all over such as Got7's Mark Tuan, Divine, Elliott Yamin, and many more. Sanjoy lives and breathe music daily and creates music in the moment. Continue reading to learn about this incredible individual's journey.
Let's start at the beginning of your musical journey. You started creating mashups and remixes of popular songs such as "Chammak Challo" featuring dancers from the UC Berkeley dance team. In a sense do you feel South Asians feel a connection to your music as you blended Bollywood songs which we grew up on as well as adding a modern electronic sound which made us feel seen and heard in the western mainstream?
My UC Berkeley homies, and just dancers in general, inspired me to make that mashup. I love the energy dancers bring to music. It uplifts the spirit of any song. I've always had a passion for house music, and when I heard Chammak Challo, I couldn't unhear it without the blend of the iconic record Show Me Love.
Moving on, what was it like partnering with T-Series at the beginning of your musical career working in Mumbai remixing some of the biggest Bollywood songs?
T Series is an amazing label to work with. We are coming out with some new bangers and super excited for them :)
Your album "Dance Under the Influence" features artists from Jonita Gandhi, Aditi Singh Sharma, Trevor Holmes, and more. What were your thoughts, feelings, and emotions while creating this album?
I grew up listening to the singers who gave their vocals for the tracks on that album. It was an honor and a breeze working with them. Everyone was super professional and willing to try something new.
At this point your song "One in a Million" with Got7's Mark Tuan is one of your biggest tracks. What was your experience like working together and how did the track come about?
One of my favorite memories that I will always cherish. I connected with Mark and his family at a GOT7 concert and stayed in touch, he expressed interest in collaborating. I heard that Mark was coming to LA to visit his parents and I reached out to them with the song. I first came up with the bassline and the vocal chop (recorded on voice memo on my iphone) Sent it to Kunal. Together we came up with the concept of one in a million and Trey Schafer penned the lyrics over facetime. Everything happened remotely during quarantine. Then I texted the song and the lyrics to Mark who really liked it. It was pretty much in a "demo" phase and had a rough production. Once we got in the studio and recorded Mark's monstrous performance it was game time to make the production around him.

Kunal, Mark and I worked with our team of animators in Colombia to get the video together and the rest was history. The fans loved and supported all around the world.
You've worked with Elliott Yamin on the tracks "OBVI" and "Victim of Love" featuring ARS (GOT7 Youngjae), Stephen Rezza. As a producer what is the process of finding the correct sound with the artists you've work with repeatedly?
Elliott Yamin is a world class vocalist to work with. His voice and delivery takes any composition to the next level. I found it very easy to work with him on songs like Victim of Love where he compliments Youngjae perfectly.
Your production work can be found on Divine's album Kohinoor on the song "Too Hype" featuring Sid Sriram. What was the process like working Divine and how did you learn about the artist?
Sid Sriram and I were locked in the studio and working on a bunch of records. "Too Hype" was one of the songs from that camp. I remember it was around 3 or 4 am and we had already worked on a bunch of songs that day. Sid mentioned that Divine was looking to collab with him and he wanted me to produce the record. I pulled up the instrumental idea and we wrote the hook that night and sent it over to Divine.
As you've worked with South Asians from the U.K. such as Arjun, South Asians from the U.S. such as THEMXXNLIGHT, South Asians from Canada such as Jonita Gandhi, and more do you feel South Asians across the diaspora are working towards community building and uplifting each other?
Yes 100%! The cross-regional collaborations amongst South Asians, the fusion of languages, the fusion of musical genres – it all promotes this sort of open mindedness and willingness to uplift one another's strengths, interests and upbringings. I love seeing it, and hope to continue to see more.
We really enjoy seeing you make a beat with the different elements around you from Easter eggs, a baby crying, sounds from an airplane, and more? Do you feel that a producer can be inspired by the different worldly elements around them?
Thank you! I love making those videos so much. I feel like I get to invite the audience into my brain haha. I am producing music every day and I feel like the world is my orchestra. I always get inspired from different organic sounds that can be used in my electronic productions. It also just makes music production that much fun and unique.
Do you feel there is a newfound respect for producers in the modern age as artists such as Drake calling out their producer's name 40 on songs for their contributions?
I love seeing producers get the recognition they deserve. 40 is not just a beat maker, he crafted Drake's sound from the very beginning. I would say he is an equal contributor to a record as Drake.
What is a common misconception about producers that you would like to correct?
That we are not just beat makers making the backing track to a song. Most of us are creative visionaries and a lot of the massive records that are out right now start in the mind of a producer.
Who are some producers that you looked up to from an early age?
A.R. Rahman, Max Martin, Timbaland, Skrillex, and Calvin Harris.
How do you feel you have grown as an artist from when you started until this point?
Immensely, and I am learning and growing every day. I want to thank all the audio professionals and companies that made tutorials and plugins available for us to learn from.
What has been your most memorable performance thus far in your career?
UC Santa Cruz Holi in 2016 was by far my most memorable performance. The crowd had insane energy! I played a 5-hour set and people were hype all the way through. Secondly, this wasn't a performance, but Guru Randhawa had his headlining tour earlier this year, and he had the last show in my hometown San Jose. He invited me up on stage in front of thousands of people and teased our upcoming collaboration, and the crowd went crazy. I can't begin to contextualize that feeling, seeing my hometown cheering me on. Very grateful that music has brought me this far, and I will keep working hard to get better everyday. Excited for everyone to hear the new music! :)
What do you hope individuals take away from this interview with Brown Girl Magazine?
That I make music for incredibly cool people with the greatest taste so they should listen to my music! Hahah just kidding, it's not that serious let's be friends. Keep doing what you love, you never know how it can impact people around the world :)

Also, huge thanks to Brown Girl magazine for the love and support always <3
Photo Courtesy of taransodhi