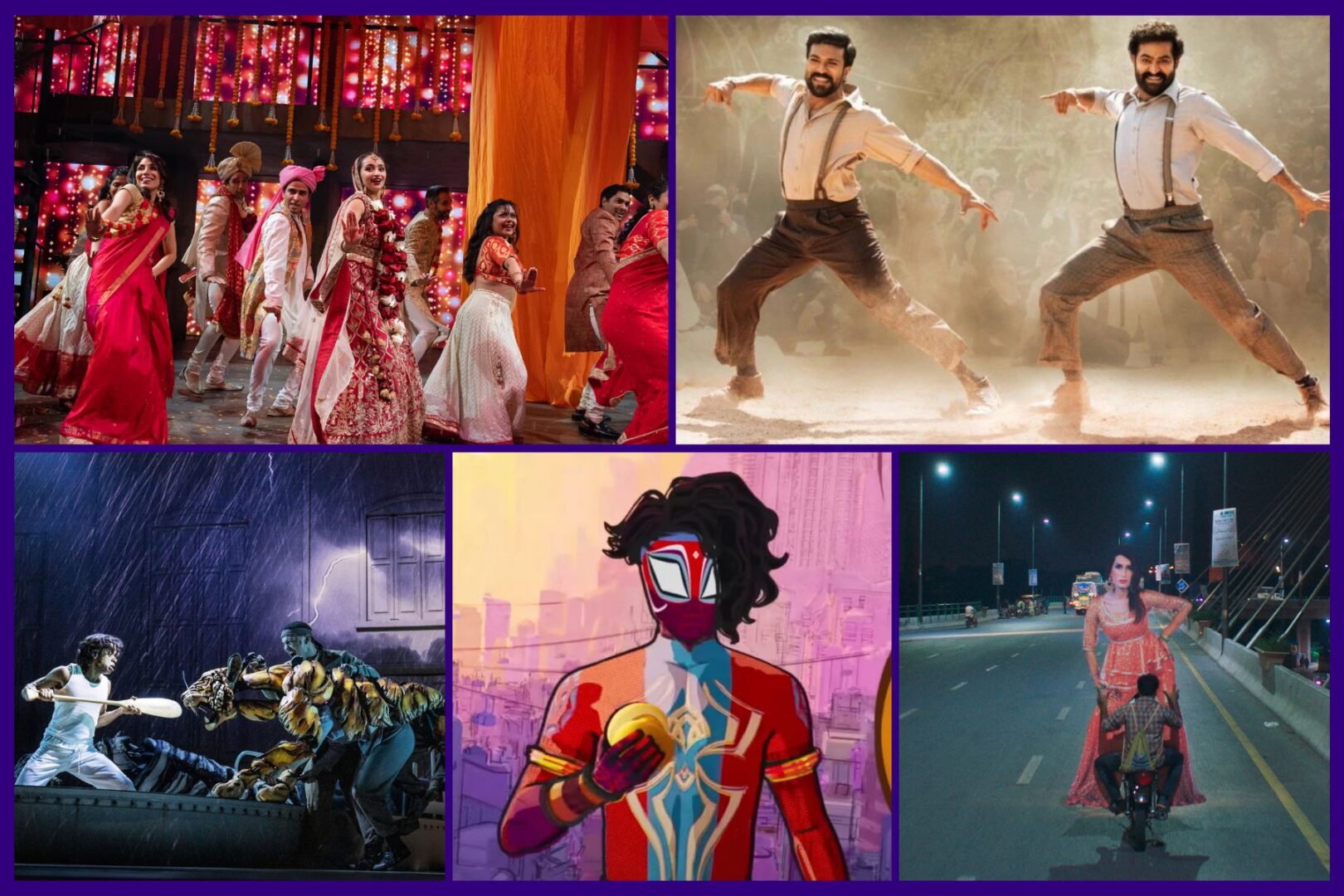 We're rounding up all the latest South Asian entertainment news so you don't have to. With the rise of representation in media, South Asians are making strides and we're all for celebrating the highs. Brown Girl Magazine'sentertainment editors Aysha and Arun have compiled a list of the all that grabbed headlines in the first half of the year, so you can still be in the loop without having to stop and search elsewhere. From the latest movie buzz to must-watch live and animated shows, we are covering it all.
Here's a round-up of some of this year's highlights:
Star Wars Joins the Brown Side, It Must
Yoda approves this one. After wowing us with Ms. Marvel and breaking glass ceilings while doing so, Academy Award-winning and International Emmy Award-winning director and journalist, the one and only badass Sharmeen Obaid-Chinoy has once again proved that she's a force to reckon with! Chinoy is set to be not only the first Pakistani and South Asian, but the first person of color, and the first woman to direct a "Star Wars" film. 
View this post on Instagram
Move Over Krish, We've Got a Spider-Man
"Spider-Man, Spider-Man…" if you don't know what song we're referring to, you better pause and run to YouTube and check it out. 
The multiverse, with virtually an infinite number of heroes, couldn't exist without South Asian representation. Insert, Pavitr Prabhakar hailing from Earth-50101. Like Peter Parker, Prabhakar grew up under the care of his aunt and uncle. Despite living in poverty, Prabhakar's intelligence earned him a scholarship that — with additional support from his family — allowed him to attend an illustrious school in Mumbai. Similar to Parker's story right? He even has an MJ in his life: Meera Jain, instead of Mary Jane.
He first debuted in the Spider-Man: India (2004) comic book series, but became a household name after being featured in "Spider-Man: Across the Spider-Verse." Voiced by Karan Soni in English and Shubman Gill in Hindi, the character is set to return in the film's 2024 sequel.
South Asians are finally making their way into the Marvel universe and this is only the beginning.
View this post on Instagram
"Never Have I Ever Wanted A Show To Continue"
Season four of the much-awaited "Never Have I Ever" came to an end filled with tears and hope, this past summer. Devi proved she can have it all (spoiler alert ahead) — a boy and her dream Ivy League college Princeton. Being a desi kid growing up, many of us also dreamt of being accepted into a school our parents could rave about to their family friends, so to see Devi's applications rejected was refreshing and much-needed. Much thanks to Mindy Kaling and her co-producer Lang Fisher for keeping it real and showing growth with each of the characters. Seeing both the widows on the show, Nalini and Pati, make room for love and dating gave us more of an incentive to indulge in the show.
View this post on Instagram
Hi-Tea Affair with WISE
Women in Showbiz Everywhere (WISE) Hosted its First Ever 'Hues of Heritage' Event Celebrating South Asians in Film & Television in mid-August with actor Bill Moseley and Executive Director of CAPE Michelle Sugihara. The Hi-Tea Affair brought together South Asian creatives, writers, journalists, and other industry members, fostering inspiring and supportive conversations. The event also marked the launch of the esteemed RATNA fellowship, which Vineesha Arora-Sarin, founder & executive director of WISE, terms as a "movement dedicated to identifying and supporting emerging South Asian female writers worldwide who aspire to make their mark in the global entertainment industry.
And what better time to launch it than now when we're going through a major cultural and a much-needed revolution in Hollywood to give writers and creators fair play as we speak." The fellowship will select five writers from South Asia (including India, Bangladesh, Pakistan, Sri Lanka and others) and the diaspora to join a one-year program and collaborate on a project alongside talented mentors. Read more about the fellowship here.
View this post on Instagram
Coachella Reclaimed
It was not something we grew up imagining as South Asians in America; children of immigrants who are often sidelined. But it happened! History was made as a considerable line-up of South Asian artists including Ali Sethi and Jai Wolf took center stage at Coachella.

The highlight though, was Diljit Dosanjh's power-packed performance that sent fans into a frenzy, enough to keep the security on their toes! It was the first time an Indian Punjabi singer performed at the event and we'd say it was about time.
View this post on Instagram
Let's "Naatu Naatu"
Iconic song "Naatu Naatu" from the blockbuster movie "RRR" not only made history as the first ever song selected from an Indian film to be nominated for an Oscar but by also winning it, beating the likes of Rihanna and Lady Gaga. While the Oscar performance was disappointing — featuring  predominantly 'white' ensemble of dancers, instead of the thousands of Indians who could've done a far better job and made more sense — this win is big for the South Asian community as a whole!
View this post on Instagram
Pakistan filled with Joy as "Joyland" Made it on Academy Awards Shortlist
Pakistani film "Joyland" is the country's first-ever film to be shortlisted for the Academy Awards. While it had a long run, it did not receive a nomination for the Oscars as expected. It was among 15 films that made the cut for the best international feature film. The critically-acclaimed film breaks stigmas by showcasing a stereotypical patriarchal family that craves for the birth of a baby boy— but with twists. Without any spoilers, this film is a must-watch for dismantling and challenging a host of patriarchal and discriminatory norms that continue to plague South Asian culture.
View this post on Instagram
From "Indian Matchmaking" to Indian Idol-ing: Sima Taparia
Love or hate her, everyone has an opinion about internet sensation Sima Taparia. And with the end of season three, there's still more to talk about Taparia's new wedding or shadi song: "Shadi ki Tayaree Hai."
The song follows Taparia attending a wedding while singing, dancing, and encouraging you to have a wedding of your own. And she's not alone; her husband Anup Taparia is also singing and dancing. People are calling the song as entertaining as her show! Do with that what you must, but check out the song available to watch on YouTube.
"Life of Pi": Broadway Gets First Indian Show
An adaption of Yann Martel's best-selling novel, Lolita Chakrabarti's "Life of Pi" musical is not only the first Broadway play with a majority South Asian cast but the first to win three Tony awards. 
Dubbed as Broadway's most diverse show right, "Life of Pi" won Best Lighting Design of a Play, Best Scenic Design of a Play and Best Sound Design of a Play. Not to mention the musical is the Broadway debut of three Olivier Award-winning performers. With more than 20 puppeteers, the show takes you through Pi's journey of survival.
View this post on Instagram
"Monsoon Wedding" Takes New York By Storm
After almost 15 years in development, "Monsoon Wedding" has made storms in New York's theater scene. An off-Broadway production that ran all through the summer, "Monsoon Wedding" is an adaption of the iconic film that released in 2001.
We laughed, we cried, we sang as Mira Nair had us "literally dipped in the vat of stunning classical Indian singing."
A show fit for anyone, as each character depicts varying shades of a personality, "Monsoon Wedding" breaks stereotypes, confronts stigmas, and reminds us of the importance of family.
View this post on Instagram
"What's Love Got to Do with It?" Brings Home Four Awards
Shekhar Kapur and Jemima Khan's romantic comedy "What's Love Got to Do With It?" won four awards at the United Kingdom's National Film Awards, including best screenplay, best British film, best director and best supporting actor.
Khan, the screenwriter and producer of the movie, won the award for Best Screenplay. Asim Chaudhry's performance won the movie Best Supporting Actor and Kapur won the Best Director award and the Best British Film award.
View this post on Instagram
The Women Behind India's Academy Award win
In another historic win for India, "The Elephant Whisperers" became the first Indian documentary to win an Oscar. Winning Best Documentary Short Film at the 95th Academy Awards, the film touches upon the relationship between animals and their caretakers. It follows the story of an indigenous couple named Bomman and Bellie who care for an orphaned baby elephant.
The film was directed by Kartiki Gonsalves and produced by Guneet Monga. Sharing the news of the win on Instagram, Monga noted how two women brought home this historic award.
"Tonight is historic as this is the first-ever Oscar for an Indian production. India's Glory with 2 women."
Record Number of South Asians Invited to Join The Academy
The Academy of Motion Pictures and Arts announced their list of 398 new members invited to join them. Among the prestigious names are also Indian film celebrities Ram Charan, Mani Ratnam, Karan Johar, Siddharth Roy Kapur, Chandrabose and MM Keeravani. As members of The Academy, they will be eligible to vote for the 96th Academy Awards which will be held in March 2024. 
Be on the lookout for our next roundup as the year comes to a close!